The Steelers BHC are pleased to announce a partnership deal with Jump Inc. which will see the Steelers BHC youngsters being rewarded for their hard work and effort. As part of the Clubs Player of the Day reward scheme players will receive 2-4-1 Jump vouchers as well as the usual player of the day trophy and medals.
In return for Jump Inc's support the Steelers BHC will be promoting there offers and offering discounts on birthday parties and other social events.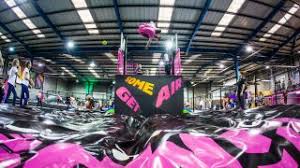 Sheffield Jump Inc is one of the largest dedicated trampoline parks in the UK, with over 24,000 square foot of spring loaded fun under one roof!
Sheffield Jump Inc. is jam-packed with 120 trampolines (yes, 120 trampolines, all under one roof!), so there's literally no excuse not to bounce the day away.
Plus, they also have other obstacles such as ;
3-Sided Walk the Wall // Big Air Bags // Jump Tower // Tumble Tracks // Half Pipe // NEW: Reaction Walls // NEW: Wipe Out Zone
COMING SOON: BRAND NEW NINJA WARRIOR COURSE!
And if you don't know what any of those are, you'll have to go along and find out for yourself! Thanks to there unique trampolining features and activities, you can jump, tumble and flip like nowhere else on the planet.
Jump Meadowhall, Sheffield
Opening Times
Mon-Fri Toddler 10am – 12noon // Open jump 12noon – 9pm
Weekends – Toddler 9am-10am // Open jump 10am – 9pm
Keep your eyes out for some special offers being announced tomorrow!!!